Vacanta este gandita special pentru sexul frumos, o saptamana de relaxare, in care vei manca sanatos, vei face Yoga alaturi de o pasionata si profesionista in domeniu, te vei bucura de vara fierbinte din Toscana langa piscina…iti vei umple sufletul de frumos. Cu siguranta, te vei intoarce relaxata si cu prietene noi, cu multe povesti despre locurile pe care le vom vizita, cu sufletul mai usor si mai vesel.
Cazarea este special aleasa pentru un astfel de retreat, intr-o locatie draga noua. Un agriturismo tipic toscan, dar care se bucura de o piscina cu vedere panoramica asupra vaii si toate facilitatile de care avem nevoie, pentru a avea o vacanta de neuitat.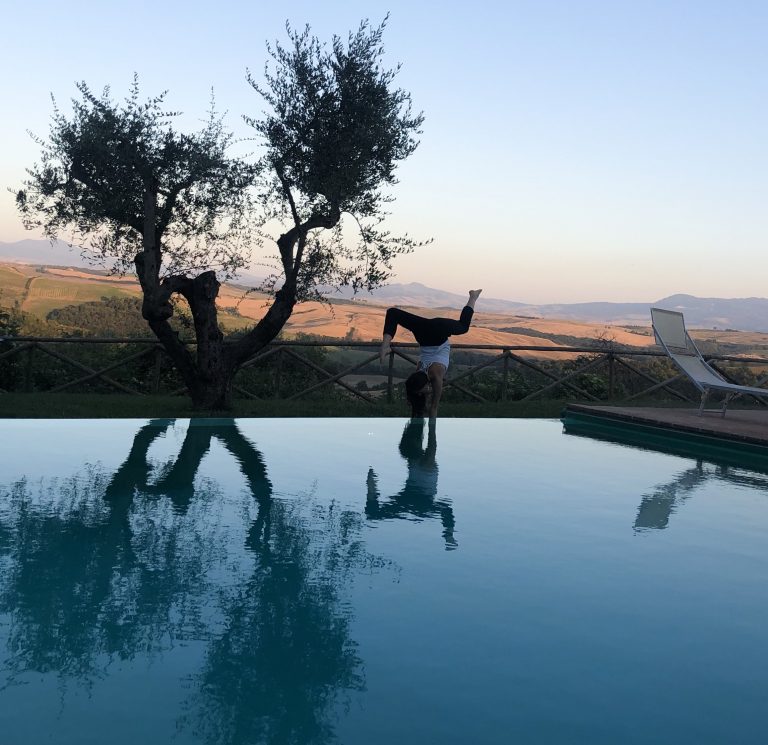 Pentru cei care inca nu o cunosc pe Oana, va spunem noi cateva despre ea, dar cu siguranta o vei indragi pe loc, iar sedintele de yoga orchestrate de ea te vor ajuta sa ii intelegi pasiunea si dedicarea.
Oana activeaza in industria fitness-ului de peste 10 ani, ca antrenor personal, instructor pentru clasele de grup si profesor de yoga.
Curiozitatea si atractia pentru Yoga au dus-o pana in India unde a aprofundat aceasta stiinta, devenind Yoga teacher certificat si recunoscut de Yoga Alliance :
-300 hours Yoga TTC- Yin and Yang and the 5 Elements – Trimurty Yoga, Goa, India;
-200 hours TTC -Hatha Yoga -Rishikesh Yogpeeth , Rishikesh, India;
A urmat o parte din programele lui Sadhguru, cum ar fi Inner Engineering (Coimbatore, India) si Surya Krya (Haga, Olanda), dar si Silent retreat-uri cu Mooji in Zmar (Portugalia)si Olanda.
Iti vei incepe dimineata alaturi de Oana si restul grupului, inconjurata de lumina inconfundabila a Toscanei la rasarit si impreuna vom face o sesiune de yoga pentru energizare. Seara, pentru relaxare, o alta sesiune la apus, urmata de socializare, un pahar de vin si poate un tiramisu.
Desigur, vom si vizita locuri superbe, pentru ca ne vom afla in miezul vaii d'Orcia, patrimoniu UNESCO. Pienza, Montalcino, Monticchiello, Montepulciano sunt doar cateva destinatii pe care le vom savura impreuna.Iar pentru ca Toscana, nu-i asa, merita si gustata, vom organiza pentru tine degustari de vin la podgoriile din jurul nostru, care nu sunt putine.
Traieste PREZENTUL, singurul loc in care viata exista cu adevarat!
Pretul include:
*cazare 7 nopti in camera dubla/twin
*insotitor de grup;
*12 sesiuni de yoga
*2 degustari de vin
Pretul nu include:
*transport in/din Toscana
*asigurare medicala